Jonas Lundqvist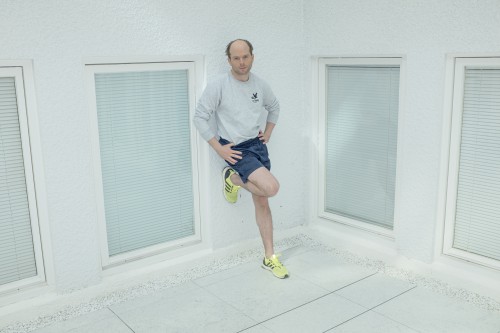 Svensk version av texten längre ner
Jonas Lundqvist was only 11 years old when he started what was to become one of Sweden's most influential and notorious bands – Bad Cash Quartet, where he was a drummer and songwriter. Along with Broder Daniel, they created the foundation for what is now known as Swedish Guitar Rock. At 16, he was already a veteran on the Swedish roads. No small town was too small to play for the slacker kids from Örgryte. An intense band with intense personalities, who still are eminently alive in the Swedish music scene. For example, we nowadays find the band's former singer Martin Elisson in the band Hästpojken. Bad Cash Quartet quit in 2004.
"The first time I met Jonas, he was about 15 and I was about 20 years old. He was so wild that it instantly made me feel like an ancient old man. Still he was exactly like me. Only more. He was completely pure and that's probably the best thing you can say about people, that they're pure. Jonas's music is just like himself – pure." – Håkan Hellström
Three years later, Jonas released his first solo album – ADHD, taking the artist name Jonas Game. The album was released on Swedish record label Sincerely Yours, and was a natural step on a journey of friendship that had started long ago.
"Do you remember the first time we met, in 10th grade, at a friend's party in Haga? Was it Lina? I had cut myself and some other people with a knife and destroyed stuff and people thought I was annoying. But you must have taken a fancy to me because when you found me lying in a stroller in the backyard, crying, you comforted me and said some really inspiring things. This album is your ticket, get with it." – Eric Berglund (The Tough Alliance/ Sincerely Yours)
In 2012, we got much closer to today's reincarnation. Jonas released his first album – Så e de me de – under the name his mother gave him – Jonas Lundqvist. He departed on a liberalising path, crossing roads and collaborating with Studio's Rasmus Hägg. He left behind his old guitar, wrote songs in Swedish and started developing his music towards what it sounds like today.
Now we're in 2015. A couple years ago, Jonas left Gothenburg for Stockholm – a love story with both an unhappy ending and a joyful rebirth. With Adrian Recordings' simultaneous move to Stockholm from Malmö, a conscious, uncertain musical evolution has begun.
Last year, we got the first taste of what might become Jonas second album under his own name. The romantically magnificent song Lyft och försvinn arrived and now we've come to yet another reawakening, in the shape of the song Vissa nätter. The song is a synthesis of everything we know about Jonas Lundqvist up to this date. The grand feelings and the euforia is delivered in a dancing mode, light as a feather.
—
Den 4 mars 2016 släpper Jonas Lundqvist sitt andra album "Vissa nätter" (Adrian Recordings), uppföljaren till Så e de me de (2012). Han har skrivit och producerat skivan ihop med flera kompisar – David Axelsson (som producerat bl. a. Maja Francis), Jocke Åhlund (från Teddybears, Les Big Byrd), Rasmus Hägg (Studio), Petter Granberg (Mattias Alkberg, Jakob Hellman) och Måns Lundberg (Deportees, Håkan Hellström). Singeln "Pengar på fickan" släpps i januari.
"Jag är absolut bäst i den pinsamma genren 'vita medelklassmän med gitarr'. Åh nej, nu blev säkert någon kränkt på väg till sitt företags-gig", svarade Jonas på frågan "hur går karriären?" i Bon Magazine, oktober 2015.
Första smakprovet från nya albumet, som blir Jonas andra skiva i eget namn va den romantiskt storslagna singeln "Lyft och försvinn". Våren 2015 släpptes den intensiva "Vissa nätter", följt av den sommarsvala "Den som ser havet" i augusti.
Jonas Lundqvist startade redan som 11-åring det som skulle bli ett av Sveriges mest inflytelserika men också skandalomsusade band – Bad Cash Quartet, där han spelade trummor och skrev låtar. Ingen håla var för liten för att få en omgång av slacker-kidsen från Örgryte. Det var ett intensivt band med intensiva personligheter som än i dag i högsta grad är levande på den svenska musikscenen, bl. a. sångaren Martin Elisson i bandet Hästpojken.
Bad Cash Quartet splittrades 2004. Tre år senare släppte Jonas Lundqvist sitt första soloalbum – ADHD, då under namnet Jonas Game på bolaget Sincerely Yours.
2012 kom Jonas första album under eget namn, med titeln Så e de me de. där han samarbetade med Studio's Rasmus Hägg och påbörjade utvecklingen mot det vi hör idag.
Utöver musiken har Jonas Lundqvist också synts som sidekick till Filip Hammar och Fredrik Wikingsson i TV-programmet "Breaking News" (juni 2015).
Under 2015 har Jonas, skaffat sig ett rykte som det mest kompromisslösa man kan se på en svensk scen.
Artist: Jonas Lundqvist
Titel: Vissa nätter
Releasedag: 4 mars
Bolag: Adrian Recordings
1. Vissa nätter
2. Lyft och försvinn
3. Mamma
4. Purpur och smaragd (med El Perro Del Mar)
5. Pengar på fickan
6. Någons jävla saker
7. Den som ser havet
8. Över kanten
9. Parken
1, 5, 6, 7 producerade av David Axelsson
4 producerad av Måns Lundberg
2 producerad av Jocke Åhlund
3 producerad av Rasmus Hägg
8, 9 producerade av Petter Granberg