Spunsugar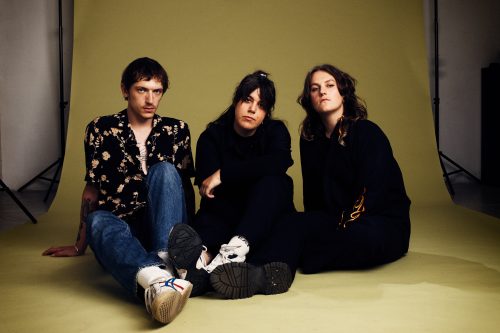 Growing up farmer offsprings, bible belt kids of fundamentalists and trailer trash in small towns of Sweden. These are their references and this shapes their sound.
Spunsugar is an alternative rock band with shoegaze influences based in Malmö, Sweden. The trio has different musical backgrounds which has led media to express praise for their elaboration and new take on the nature of the shoegaze sound, incorporating both pop, goth and electronic elements. After an EP and some introductory singles they 2020 released their thunderous and anthemic debut album "Drive-Through Chapel" via Adrian Recordings (Alice Boman, This Is Head etc). The album put them on the map as one of the most exciting bands coming out of the scene and Scandinavia, with media support from Steve Lamacq at BBC 6Music, The Independent, The Line of Best Fit, Nothing but Hope and Passion and much more.

The 1st of October 2021 they released a new EP. The songs on Things That I Confuse pretty much wrote themselves in a frenzy. Still, they sound more Spunsugar than ever. It's still as timeless and nostalgic as it is fresh. The four songs consist of two more poplike tracks and two that have kept the more noisy aggressive sound that has become a staple of the band. Now there's an added layer of an icy lo-fi feel. References to giallo films and Japanese movie monsters work to tell stories of close relationships, trauma and regret that keeps one up at night. Every second is thought through, there's no unnecessary fluff. Every note serves a purpose on this EP. Like the debut album, this new track is produced by Joakim Lindberg at Studio Sickan, Malmö.
The pandemic made it hard for the band to tour the album but in 2021 the band finally started to do shows again. After a handful of intense small shows in Sweden, and also a show at Badehaus in Berlin in September, Spunsugar are planning to write and record a new album during 2022 and they are aiming to reach new ears and levels.
"If we were to list our favorite discoveries of the year, Sweden's Spunsugar would likely be on it. The trio of Elin Ramstedt, Cordelia Moreau, and Felix Sjöström are a bridge to the past and the present. Their music is entrenched in the classic sounds of early '90s shoegaze and layered with the harsh tones of contemporary post-punk."
The Revue
"Spunsugar combines celestial shoegaze with a harrowing subject."
The Line of Best Fit
"Spunsugar's dark, exciting and head on take on shoegaze, and comprise an overall strong debut which has broken new ground for the band's future."
Destroy//Exist
4/5
"Drive-Through Chapel" is a pulsating album with lots of highs. Impeccable basslines and intoxicating lyrics are the chemistry that bring forth such a truly enjoyable album."
Music-news.com
"Featured in Best new music playlist in Mojo."