Spunsugar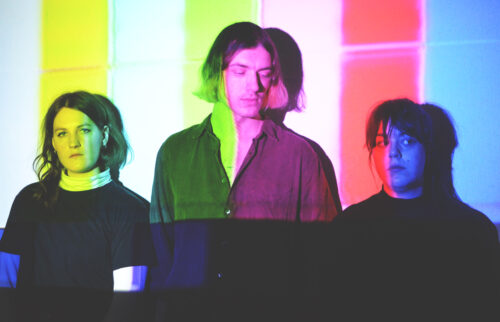 Two out of three members of the trio Spunsugar, Cordelia Moreau and Elin Ramstedt, befriended one another in a small town outsider clique at age thirteen. Their individual music tastes, Cordelia's twee-pop, jangle and grunge and Elin's metal, hardcore and post-rock blended into a mutual love for shoegaze, noise rock and dream pop. At age fifteen they started a four piece band, Elin on lead vocals and rythm guitar and Cordelia on drums. They discovered that they thrived when writing music together. When the band split up, they continued to write songs.
Fast forward to post upper secondary school. After months of hardly speaking to each other, they both ended up in Malmö. After not writing music together for five years they recorded two lo-fi songs in Cordelia's student apartment and it was if as no time had passed. They looked for a rehearsal space and within weeks they recorded a demo. But they wanted a real live bass player. Cordelia had recently bonded with a university classmate over guitars and they decided to send him a copy of the demo and asked if he would like to come play with them. Felix Sjöström became a intrinsic part of the project immediately. With his influence, their sound became more distinguished all of them bringing different inspirations to the songs. Now they all have prominent roles within the band but they are also, fundamentally, friends.
Spunsugar works at a faster paced than a lot of their shoegaze peers and accompanied by electronic drums, they are more often compared to Curve, Swervedriver or Ringo Deathstarr rather than the likes of Cocteau Twins or Slowdive. Although heavy on effects, nothing is hidden within the music, including the lyrics. The lyrics are heavy with pop cultural references, stemming from Cordelia's love for obscure genre films. Often driven by riffs rather than soundscapes, they focus equally on having a prominent bass as well as prominent guitars.
They spent roughly a year juggling writing songs, rehearsing and playing gigs before collaborating with Adrian Recordings. Sometimes they played just for their friends or at parties and sometimes at venues, once opening for Nothing, a band they all loved for a long time. The unjustified hybris from this in combination with being self-deprecating fueled the writing of a plethora of new songs. The band is now two singles into their career, I Shouldn't Care and Native Tongue, both taken from their upcoming debut EP – Mouth Full of You.
"We call ourselves an alternative rock band with shoegaze influences. Sound wise, imagine if Alternative Nation on MTV 1997 and a drum machine fall into a cotton candy machine. The cotton candy wheel breaks and derails. We grew up farmer offsprings, bible belt kids of fundamentalists and trailer trash in small towns of Sweden. These are our references and this shapes our sound." – Spunsugar