Surf Philosophies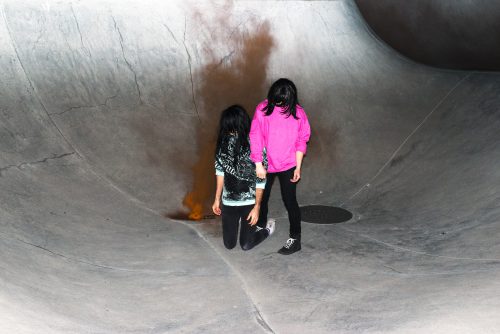 Surf Philosophies are first and foremost a moving picture. Taking a cue from the original Neural Surfer Tom Blake, questions are asked and answers are given.
Surf Philosophies self titled debut album is out the 20th of januari.
SURF PHILOSOPHIES
ON THE MAKING OF OUR ALBUM
We started to come back together to make music after a year break from our old band. Daniel had left Sweden and was camped out in France alone, surfing and driving down to Bilbao and the beaches at Sopelana. After looking at new instruments and really spending years surrounded by electronic artists we finally felt able to move away from being dependent on having to choose between acoustic instruments and computers.
We decided to meet and just play in our old rehearsal space in Malmö. We plugged in Ableton together with a push controller, an electric piano, a bass and two microphones. We wrote as quickly as possible, recording everything with our phones. Songs were long and really strange. In these first days we wrote Coconut Parfum, Higher Education, Iranian Boys and Two Sundays. We played a live show just two months later, as support for Barn Owl in September 2013. We spent more energy on the stage show than anything else. Our bodies and clothes were stained with black paint and the stage was a massive mess of neon tape and infinite projections.
After a few more shows we joined up with two friends who had a performance duo. They were called Uppträdargruppen, which means performance group, although it was really by way of the San Francisco queer scene. They were UG and we were SP, so we became SPUG for a while. We expanded our show into three hours of performance art. Speed dating, Kanye West chess, dinosaurs playing Chris de Burgh, karaoke, Tom Cruise, Lady and the Tramp, slow dancing, rap and glitter bombs. We wanted to undo the music and indie concert experience. It went great to start with and then, after a strange Easter show with Easter from Berlin, it collapsed and we were on our own again. But we knew what we wanted to do.
After another year of rehearsing, songwriting and sporadic live shows in Malmö, we decided to make a record. We contacted Björn Stegmann, a friend and recording engineer who we had worked with before on some 7 inches. Together we recorded eleven songs in five days, in June 2015. After finishing the record, we spent time making videos. The music takes a visual form in our mind, and video is just a perfect format to add to the music. The video is not trying to define the sound. It just becomes a way to add more colour of the world we want to build into the overall experience. As Ian Svenonius says in his book, "Supernatural strategies for making a Rock and Roll Group":
You can't create an identity after the fact. A band has to be the band before the music, they have to walk the walk and talk the talk. The audience will know otherwise. The audience needs a group who are as consumed by the myth as they themsleves will be. Groups are the important part of western rock and roll mythology. The music is just a cool soundtrack.
((paraphrased ))
When creating the songs as with the ideas and concepts, we have a wealth of inspiration. Daniel travels all the time, touring with friends around Europe in theatres and at festivals. Each song has DNA from different airports, hotels, parties and meetings. Sometimes, the drums would come from one country and the lyrics from another. Eventually once in the rehearsal space, Daniel would present a song in whatever rough form it had, and Fred would start to add chords and bass lines, inspire new paths or eventually re-imagine songs from different parts.
This; no rules, don't care, no sympathy attitude, is a part of the surf philosophy.
In the water, when surfing on the wave, everything can roll along nice and slowly. But all of a sudden a freak wave or a storm or a thrashing can force one to change everything, and then with just as little warning one can be back to normal or washed up on shore. Nature is slightly disinterested. And this strangely beautiful yet apathetic force is what we try to imbibe the music with. Songs come and go and start and stop and change and make sense and make no sense.
Our songs are inspired by years and years of music appreciation. Singers and bands come and go, and each important artist can influence us in one way or another. After a really long time, we started to see music as the influence rather than genre or aesthetics. Even the words and voice are more interesting to us as melody and sound rather than content. The words might exist, but how they are heard or interpreted is held in the same esteem as how one would hear a bass line or a rhythm. In Coconut Parfum we take a pretty line from Debussy's Arabesques and use it to create a forward movement. As though wandering The Getty or The Tate, each musical painting adds into the experience of the other. Until there is a conglomeration of ideas, moods and thoughts, and from that emerges the new. Like sampling, or re-interpretation, the goal is not to copy but to create the new from the parts we have. Another song like Two Sundays, started as a broken guitar loop in Daniel's kitchen. As a spiritual cousin to Winters Love by Animal Collective, it is a re-falling in love with guitar, as though picking one up for the first time. This coupled with really discovering Panda Bear, who we identify more with. Noah Lennox's vocal mantras are the perfect crossover between AC and Brian Wilson's Beach Boys compositions. Stacked melodies, more so than stacked harmonies. This helped shape both Two Sundays and Come in in The Feeling. Moreover, Bonecrusher has live drum samples from Ogoya Nengo and the Dodo womens group, and Raveyard is a symbiotic mess of Caribou, Lykke Li, Nina Simone and Donna Summer.
The album is designed to be listened to with headphones as you fall asleep after a heavy day and night. It merges together and takes you away from where you start. When we play live, we try to experience the songs as they happen. They change and grow and they often come back to the place they started before they were recorded. Certain melodies or physical feelings in the body come from the way we move when we sing or play. Lying down in bed and listening on headphones is almost a meditation, the experience of moving the mind.
Like the artist Beach House, we push forward trying to make the idea sharper and sharper. This first album is the introductive suite to the branches of Surf Philosophy. A philosophy which deals with the relation between people and nature. Between the artist and audience experience. Modern symbiosis between instruments and machines, and naivety as a tool to create in a less cynical way.
~ Surf Philosophies 2016
What does making music look like?
How long do we wait for songs?
Is the same song the same the second time around?
Only by turning pages and flicking through channels and swiping the screen do we finally get a grip on the ungrippable. Surf Philosophies make music by finding sounds in the Great Pacific garbage patch. No sound unloveable. No song unsingable.
Hailing from the pirate coves and Press-ganging ports from around the world..A love hate education of sailors law has formed all understanding of the world. Like the crew of the Pequod, only able wits and crude fighting skills have enabled the skimpish remains of this ship to survive.
A love of sea shantys, drunken knees-up, lonesome ocean ballads, rhythmic working songs, hymns and island jams..Surf Philosophies combine all flotsam and jetsam to provide a new modern soundtrack to the symbolic practice of watching the seas.
All songs are songs. And singing is the noble art of letting go and saying nothing. Melodies and harmonies, dissonance and silence, all words are sung as if they are saying what anyone wants to hear. There is no insistence on preaching or proclamation. We hear what we want to hear.
Surf Philosophies don't care what you think.
We are the seagulls squawking for food,
We are the whales singing for the ocean,
We are the sharks mistaking surfers for seals.