Bitch Hawk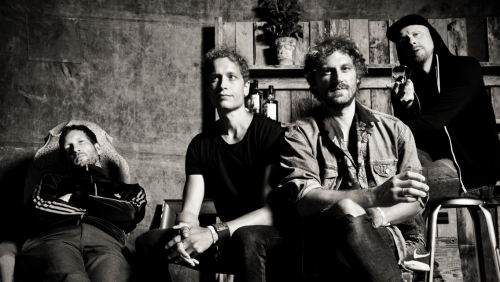 JOY is for the oppressed, the beaten, smashed, abused and neglected. But also wankers, idiots, losers and primitive humans will surely find something compelling here.
Artist: Bitch Hawk
Album title: JOY
Release date: 2 Nov
Label: Adrian Recordings
Bitch Hawk is a Swedish hardcore/punk/sludge/neo trash band from Stockholm, Sweden. The band formed a few years ago and are working furiously. Songs, releases and tempo are intensifying in pace by the minute. JOY is their second album and the second alum to be released in 2018.
Since the last recording, The sound has transformed in to an even sharper, nastier and brutal soundscape.
"We wanted the album to be called Joy. We wanted something totally stupid.
Our aim this time has been to cross-pollinate Megadeth and Lumpy and the Dumpers."
JOY was recorded, mixed and produced by Pelle Gunnerfeldt (member of Fireside, producer of The Hives, Refused, Sahara Hotnights, Entombed, The Knife, Breach, Honningbarna, The Hellacopters, Peter Bjorn And John. Status Quo, Mando Diao and many more)
Artwork by Kalle Mattson
Bitch Hawk is:
Andreas Hourdakis (guitar) Patrik Berger, (bass) Henrik Holmlund (Drums) and Fred Burman (vocals)
The members have experience, not necessary in the hard rock business. Patrik Berger is a well known songwriter to big stars like Lana Del Rey, Charli XCX, Arial Pink etc etc. Among numerous hits he wrote "I Love It" to Icona Pop and "Dancing on My Own" together with Robyn. Andreas Hourdakis is a well known Swedish jazz guitarist that plays international shows in Magnus Öström's (E.S.T) band and as a solo artist with his own trio. Fred Burman also sings in the band Satan Takes A Holiday and Henrik Holmlund is experienced from numerous rock and ska bands.