MF/MB/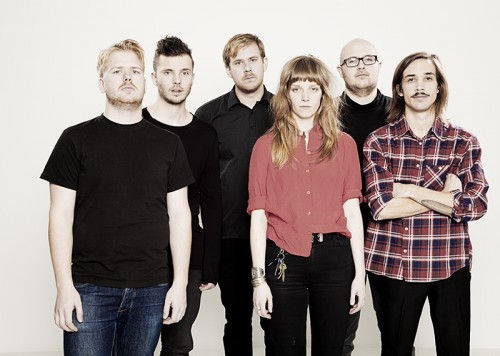 MF/MB/s second album "Colossus" is released 20 of February in Scandinavia and 1st of March in rest of the world.
It all started in 2005 in Bollnäs, a town situated roughly in the middle of Sweden, when the members of MF/MB/ were just 17. Bored and angry at small-town narrow-mindedness they buried themselves in their music. At first, they played mostly cover songs, members came and went and turbulence prevailed. But then one day everything came together. They recruited a drummer who could play like a drum machine, and the new songs took a whole new direction. Even then, they were a manic but magical live band, frantically hungering for more of EVERYTHING. Driven by this hunger, they hit the road early on. Without even having one release, they toured Europe together with bands like The Faint and The Sounds, fixed their own booze-soaked gigs and played at countless festivals including Roskilde and Hultsfred. They left Bollnäs for Malmö and found themselves in their element at the heart of the new so-called Malmö scene.
In 2010 they released their debut album "Folded" on Adrian Recordings. It won global plaudits. Songs from this album were heard frequently on Swedish Radio P3 and many foreign radio stations, and even on the soundtracks of TV shows like CSI:NY and The Inbetweeners. Their touring gathered momentum with several trips to Germany, Austria, Switzerland and Spain. MF/MB/ also supported bands such as !!! (Chk Chk Chk). The MF/MB/ colossus rolled on at a furious pace.
MF/MB/'s second album "Colossus" was recorded live during a few intense spring days in 2012, at Christoffer Lundquist's isolated, rural recording studio together with Mathias Oldén from Logh who had previously worked with such artists as The Hives, Radio Dept. and Mattias Alkberg. It was then mixed by Magnus Lindberg, who had also done the mixing for the Deportees, David Sandström, Totalt Djävla Mörker and Refused.
"Colossus" is preceded by "Colossus Premixed", a remix album released before the original album.
"Since I have NEVER found a remix album better than the original one, I guess Colossus will be fucking colossal."
Absolut Noise
"The so-called colossus is MF/MB/ itself, as seen through MF/MB/'s eyes. A massive great hulk, a giant consisting of equal parts flesh and electronics that never ever had to justify its own existence because we never questioned it. We created this colossus and then let it barge around with no aims or directions. We'd moved town and been ridiculously lucky for five years without more than an occasional trifling setback. Incredible!
The time leading up to our debut album "Folded" (2010) had been a bed of roses. Hell began three days before the release, when our drummer had a terrible fall and was forced to spend the next six months in hospital. It was the colossus's first punch in the face, followed by blow after blow after blow. MF/MB/ became ill, family members became ill, friends became ill and suddenly someone died, someone who really should not have died, which caused someone else to want to give up hope, but how do you give up on something you cannot even define? Somehow we felt compelled to define the colossus, to define MF/MB/.
"Colossus" is both self-examination and therapy. It's coming to terms with ourselves and with the battered beast that's our band. On "Folded" our anger and frustration were directed outward towards all the bastards who didn't understand. On "Colossus" we look inward instead, hoping to get answers to all the things we don't understand. On "Folded" we were drawn into darkness; on "Colossus" the darkness is drawn to us. This record is the product of MF/MB/'s baptism of fire. The sound of a colossal creature that's realized it isn't immortal, and just because of that carries more weight than ever before."
MF/MB/, October 2012.
"The Big Machine is the first track from the album "Folded". It teeters on the precipice, tapping its foot, with eyes down at the floor before pulling its shoulders back and screaming into the void. This is the sound of a band that is hungry and ready to kick down the door to your soul."
The Line of Best Fit
"They're capable of LCD Soundsystem's level of tenderness, but much like the fuzz of The Big Pink, you're often hit with a Berlin-sized wall of sound, with an industrial attitude that brings up thoughts of Nine Inch Nails, (were Trent Reznor to start staring at his shoes). Their tracks come in a variety of waves, but all of them are consistently powerful."
The Recommender