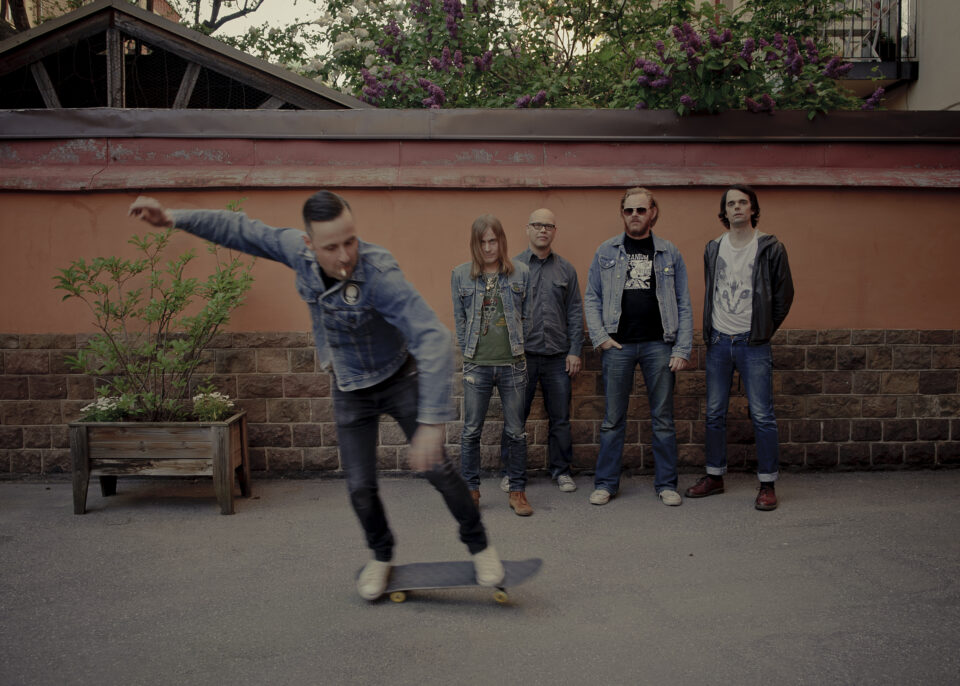 The Bear Quartet
Biography
Adrian Recordings came to know Jari Haapalainen when he produced Laakso for the label back in 2003. When The Bear Quartet hadn't release anything on their hope label A West Side Fabrication in a while we simply asked the band if theu wanted to release anything. We are proud to have released 2 of the band's best albums – "89" and "Monty Python". No one knows if there's ever gonna be any more. Here a text about the last album "Monty Python".
It's no longer interesting or relevant to start a text about a new The Bear Quartet album by informing that they have made 15 albums before this one. The band themselves should never give that a thought. As soon as a new The Bear Quartet album is written and released it bears no relevance. This somewhat futuristic view has lead them to a position with not only musical unpredictability and pathological integrity, but also consistent acclamations and praises from the critics. But since all that matters is the creativity and progress in the music, and because ambitions are sometimes mentally high, for everyone involved, the band themselves are their hardest critics. It's beyond doubt that The Bear Quartet is one of Sweden's most influential bands, and when it comes to lyrics, Matti Alkberg and Peter Nuottaniemi are second to none.
This album "Monty Python", was initiated straight after the recordings of the former "comeback" album 89. The band even played a couple of tracks from it on their follow up tour to the 89 album. Here we feel a need to inform the audience that despite their numerous "hits" and songs favorited by so many through the years, the band never play songs that are older than there previous released record, and sometimes even tracks younger than that. So never come to a The Bear Quartet show and expect to hear your old favorites. Nostalgia is not for them, and they do their best to indulge you to feel the same. Another example on the unpredictability that you might experience when going to a concert with the band is when they played the Hultsfred Festival a couple of years ago. The band thought that they received just enough money for the keyboard player Calle to come, and not more. So Calle was the only one that arrived at the festival and he played a set of 45 minutes ambient synth music, among some one of the best The Bear Quartet concerts of all time. The history is full of anecdotes like that. They are truly an interesting band to follow.
About the new album, the same can be said as of the previous – 89. On the one hand it has all the typical ingredients from the bands career up until now. On the other, it sounds like nothing they've ever recorded before. The Bear Quartet never looks back and never stands still. By the end of the 90's they were through with pop music. They just weren't that interested in it anymore. They just couldn't look themselves in the mirror any longer, knowing they created another sentimental gem like, there classic tracks, "Mom And Dad" or "It Only Takes A Flashlight to Create a Monster". They just wanted something new.
So they made "Ny Våg" in 2001, had somewhat of a relapse to old sounds in 2003 with "Angry Brigade", although there were a couple of songs heading in the direction that was to come. The band has gone from the noisy, literary rock of the debut through the more arranged still literary, followers via the orchestrated pop and country/easy-listening tinged era of "Everybody Else" and "Holy Holy" that grew into the rock beast that is "Moby Dick" and its sister "Personality Crisis". Then they made "My War" and "Gay Icon" and they evolved more than developed and it all lead up to the two albums "Saturday Night" (2005) and "Eternity Now" (2006) that people still striving to understand. That was the end of The Bear Quartet Mk 1 and they took a break since they felt they had fulfilled every single musical aspiration they'd ever had.
All this was needed to bring us up to date. The new Bear Quartet started with a label switch from their original label A West Side Fabrication to Malmö based Adrian Recordings. Previous album 89 was the first on Adrian and a mark of a new era.
So, why should we not agree that it's high time that acclamations from critics and the praises from fellow musicians are met by the interest from a wider, international audience? A journey into the world of The Bear Quartet is well worth its investment. It may not change the world but it will change your life. Start this journey by getting acquainted with Monty Python. Right now!
Matti Alkberg: lso well known as a solo punk/rockabilly artist
nmtiö:also in Paddington Distortion Combo and Paper
Jejo Perkovic: also in Infinite Mass and Brick
Peter Nuottaniemi: also in Container of Love and a new unnamed pop band
Jari Haapalainen: works with a lot of other bands as a producer and live musician such as Camera Obscura, The Concretes, Nicolai Dunger, Ed Harcourt, Laakso, The (International) Noise Conspiracy, Kristofer Åström, Johnossi and more
The Bear Quartet is and has always been all members main band.